Shockwave Therapy is an extremely effective and non-invasive solution to the pain and impairment caused by chronic, overuse injuries.
During Shockwave Therapy, a series of high-energy percussions is delivered to the injured area. These mechanical pulses cause scar tissue and calcific fibroblasts to break down and this, in turn, provokes metabolic activity and an inflammatory response – promoting and stimulating healing..
What is Shockwave Therapy?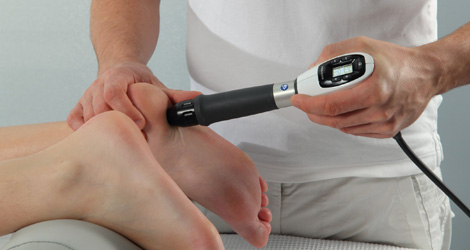 Shockwave therapy is a highly effective, non-invasive treatment protocol used for the regeneration of tissues such as bone, tendon, muscle and skin. Shockwaves are mechanical sound waves that work by breaking down scar tissue-adhesions, increasing circulation, stimulating new blood vessel growth and driving stem cell migration to the area. Shockwaves are a scientifically proven treatment of acute and chronic pain, with virtually no side effects; most conditions are resolved after 3-5 sessions.
Shockwave therapy (ESWT) is a modern and highly effective treatment method: high-energy sound waves are introduced into the painful areas of the body. With this innovative therapy approach, pathological alterations of tendons, ligaments, capsules, muscles and bones can be eliminated systematically.
The beneficial effects of shock wave therapy are often experienced after only 1 or 2 treatments. The therapy eliminates pain and restores full mobility, thus improving your quality of life.
Benefits
Non-surgical treatment
Affordable
Non-invasive, painless treatment
Speeds up healing process
Minimal side effects
Frozen shoulder
Muscle sprain, cramp and spasm
Scar tissue treatment
Cellulite treatment
Treatable Conditions
Plantar Fasciitis, heel pain or heel spur
Tennis elbow
Jumpers knee
Achilles tendonitis
Shin splints
It is recommended that patients trial at least 6-8 sessions of shockwave therapy with approximately 4 days in between sessions to see a good result. Many patients notice a difference after just one session reporting benefits such as reduced pain, improved tissue healing, improved blood flow and reduced muscle spasm in painful areas.